Concert For Caswell with Curtis Eller's American Circus
September 12, 2021 @ 6:00 pm

-

8:00 pm

$25.00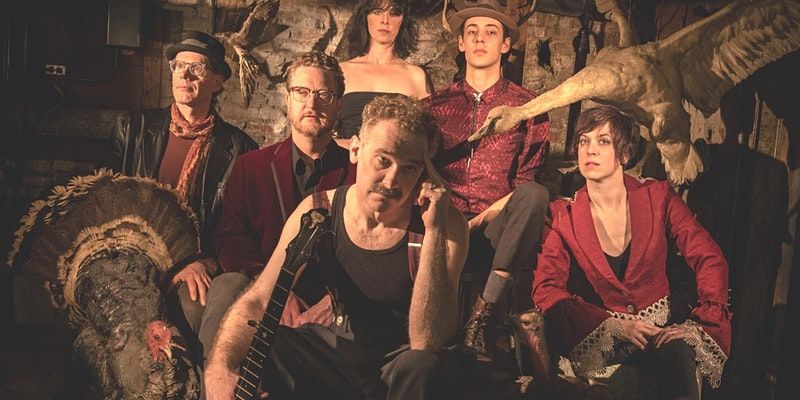 Come one, come all to a show with Curtis Eller's American Circus!
About this event
EVENT UPDATE! TIME/FOOD CHANGE!   Out of an abundance of caution, we will not be serving any food at this event.   Instead, we will proceed as a concert but will start at 6:00 pm to allow for folks to eat before they come.
Step right up to a musical extravaganza hosted by Protect Caswell, a chapter of Blue Ridge Environmental Defense League (BREDL) at the gorgeous Carver Lake Venue, Prospect Hill, NC! With musical guest, the renowned Curtis Eller's American Circus! Please help support our fight for environmental causes in beautiful Caswell County in a lovely, pastoral setting. Put on your dancing shoes for a fun evening of community and music!
Curtis Eller is a banjo player, songwriter and rock & roll singer. The twenty-year show business veteran started his career at the age of seven as a juggler and acrobat, but has since turned to the banjo because that's where the money is. He is a prolific songwriter who's banjo-driven songs describe a dreamlike vision of American history where all points in time have collapsed into one. Eller and his band, The American Circus, have developed a devoted international following based on dynamic stage performances that employ a ragged, antique rock & roll sound to bring the historically evocative compositions to vivid, cinematic life. The iconoclastic musician has spent more than a decade relentlessly touring the club, theatre and festival stages of North America and Europe.
"Go and see Curtis Eller. One day, you'll be able to say you saw him in a tiny venue before he was huge." -American Songwriter Magazine
"His voice has been honed by many years of funerals, burlesque reviews and bars, his songs hallucination as revisionist history, where the downtrodden are the great and gold of Hollywood old, with Eller weaving himself into an alternative mythology encompassing heavyweight champions of the world, presidents and their assassins and, of course, the clown away from all the laughter, left with nothing save all the pills and something Irish to wash them down, a dead actress and a trial by Randolph Hearst and Will Hays…" -Big Boulder (Sheffield, UK)
Top-Ten Albums of 2019! "How is it that A Poison Melody is so sweet? Curtis Eller's American Circus throws down a full orchestration of his view of the world, complete with banjo and brass. Stunning seems trite when considering this politically charged statement set to music. Eller and his band create simply defiant artistry. Charged with an energy that is part of the chaos of our times, the music winds through generations of social and political struggle in a jazz-blues fusion." -Lisa Whealy-Independent Clauses (A Poison Melody)
Tickets:  $25 each – https://www.eventbrite.com/e/concert-for-caswell-with-curtis-ellers-american-circus-tickets-161324270235
Official Band Website: https://curtiseller.com
Music & Merch: https://curtiseller.bandcamp.com
Social Media Links:
https://facebook.com/curtisellermusic
https://instagram.com/curtisellermusic
https://youtube.com/curtisellermusic
https://patreon.com/curtiseller
Murder Barn Video Playlist (filmed right here in Prospect Hill, NC): https://youtube.com/playlist?list=PL0k6m0d0CGRUPnHEA39A-Oh6LI3a91FO8
Protect Caswell: https://www.protectcaswell.org/
Blue Ridge Environmental Defense League: https://www.bredl.org/
Carver Lake Venue: http://www.carverlakevenue.com/
Concert For Caswell with Curtis Eller's American Circus image